Lê Hương

The coronavirus pandemic has caused much trouble for co-operatives in the northern province of Lào Cai.

Among a total of 431 local co-operatives, 310 are still in operation while 121 have ceased their business and await dissolution.

More than 220 co-operatives, just over 50 per cent of the total, are in agriculture.

Trương Mạnh Hùng, chairman of the province's Co-operatives Alliance, said that over the first three months of this year, the operation of agricultural co-operatives had gradually returned to normal. Yet since April, when a fourth pandemic wave hit the country, most co-operatives had found it difficult to sell products and suffered from falling prices.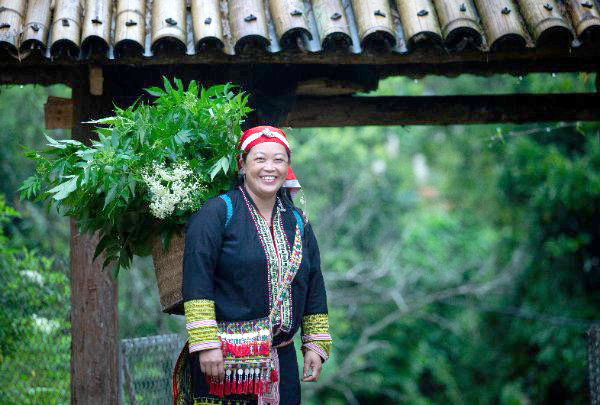 Tần Tả Mẩy set up a co-operative to sell herbal medicines of the ethnic Dao groups to tourists. VNS Photo Tuấn Tú

The Red Dao Community Co-operative run by ethnic Dao woman Tẩn Tả Mẩy, specialising in producing herbal medicine and traditional essential oil, has also been hurt by the pandemic.

"Our revenue in 2020 reduced by 65 per cent while so far this year it reduced by 80 per cent against the same period in 2019," she told Việt Nam News. "Especially the service of bathing and sauna with medicinal herbs for tourists, a breadwinner of our enterprise, has been totally frozen due to the fact that almost no visitors are coming to the town."

According to Hoàng Lan, a volunteer who acts as the co-operative's legal consultant, the co-operative has not benefited from any favourable policies for pandemic-hit businesses.

When she asked for unemployment allowance for her employees as per government regulations, local authorities said that the favourable policies were only for enterprises, not co-operatives.

"I think it's not fair as the co-operative is run under State control like an enterprise, paying taxes," Lan told Việt Nam News.

Lan said the co-operative had given jobs to 430 families of ethnic minority groups, who grow herbs to sell to the co-operative on 150 hectares of uninhabited land.

Lan said the co-operative had not even been eligible to get a bank loan as it did not have any collateral. Local authorities in Sa Pa District have not granted land ownership certifications to residents.

Social distancing has also hindered the transportation of goods to cities and provinces.

"We still maintain fields of herbs in the area, mostly to sell at our local stores in the province, introducing good quality traditional products in neighbouring provinces," she said.

During the social distancing period, the co-operative has concentrated on designing new labels for products.

Supporting hands

Mẩy has also received training in leadership skills and sells products online through digital platforms like Lazada, with the support from the Gender Responsive Equitable Agriculture and Tourism Programme (GREAT) funded by the Australian government.

"Now our products look more professional and as beautiful as souvenirs in the cities," she said. "I have learnt a lot about marketing products."

Mẩy was orphaned at 4 years of age when her father died and her mother moved away. After that, she lived with her grandmother, who taught her traditional herbal medicine.

In 2015, Mẩy and seven neighbours established the co-operative offering bathing with medicinal herbs to tourists in Tả Phìn Village. They also sell products made from 73 kinds of herbs.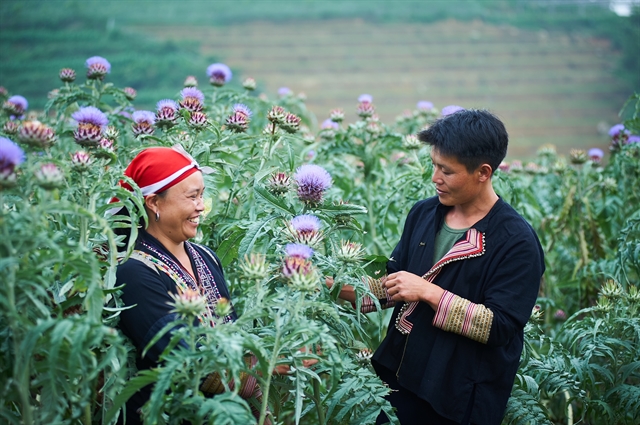 Members of the co-operative get a steady income despite the pandemic. VNS Photo Tuấn Tú

"At the beginning, I found it so difficult as I didn't know how to read and write, and didn't know how to treat strange people and persuade local women to join me," Mẩy said. "But then I began to understand that I should not talk too much, and just do well and people would trust me."

Before the pandemic, the co-operative did good business thanks to a large number of visitors to Sa Pa.

Full-time staff working for the co-operative get a steady income of VNĐ5 million per month, while part-time staff get VNĐ2-3 million each and meals throughout the day.

Staff who directly sell herbal products get an even higher income. From the initial seven members, the co-operative now has 120.

For the past two years, the gender responsive programme has offered various support in branding, customer service, marketing and management. Total financial resources for the project is AU$263,000 (US$194,000) with 60 per cent coming from the co-operative itself.

Vũ Quỳnh Anh, deputy team leader of GREAT in Việt Nam, said the organisation felt proud of what the co-operative had achieved.

"This is a model co-operative run by a business woman of the Dao ethnic minority group," she told Việt Nam News.

"Despite Covid-19, the co-operative has improved its trading capability. It has bought herbal medicine materials from local farmers as usual, and offered steady jobs to ensure income for members."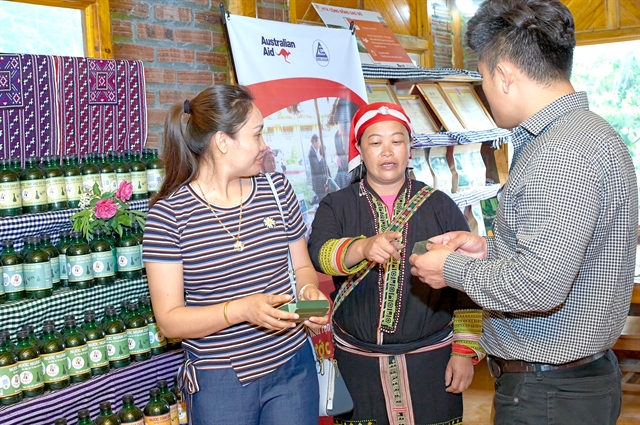 Director Tần Tả Mẩy (centre) talks with customers. VNS Photo Tuấn Tú

Anh said director Mẩy had become more self-confident in running the business, and presenting in front of a crowd.

The director has hosted various gender equality events for 300-400 members and 'satellite' workers for the co-operative to enhance people's awareness.

The co-operative has registered to be a model for improved working conditions for both genders, dealing with the different demands of male and female workers, especially young and elderly workers, she added.

The programme has also helped the co-operative to connect with the Hoàng Liên National Park to expand its planting area, setting up a centre for growing medicinal plants in 4 hectares of the park.

Phàn Tả Mẩy, one of the founding members of the co-operative, said the herbs she cultivated in her field had all been bought by the co-operative despite the pandemic.

"I trust the business guideline of the co-operative," she said. "I have not worried much about my family income since I joined the co-operative. My husband did not trust it at first but now he wholeheartedly supports me in the work."

Director Mẩy said she was proud of creating jobs for local women while maintaining her group's identity.

"I hope the pandemic will be over soon and the local authorities will support us more so that the co-operative can develop to ensure local worker's livelihood," she said. VNS